Class 11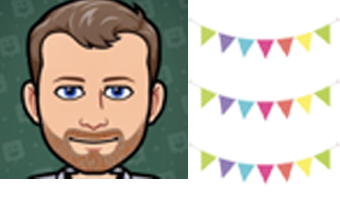 Mr Waterworth
It is great to be at school and making plans to learn together! 
Everyone needs to connect to our Class do-jo system to enable important and interesting messages to be shared as well as celebrating all the do-jo points being collected for amazing work, good attitude, great manners and stand out moments!
Please make sure your child wears full school uniform. During PE lessons your child must also wear the correct school PE kit. We believe that our school uniform encourages a sense of pride in appearance and a feeling of belonging to our school family. This assists in developing high standards in other aspects of school life. Details of the school uniform can be found in the virtual office on the school website.
Please remember, we are back to normal school hours and we are still using our one way, drop and go system as it worked so well for everyone.
Our gates will open at 8.45am and close at 9.00am – so please don't be late! Gates re-open around 3.05pm and school will finish at 3.15pm
During this half term Class 11 will start to compare the city of Chester with our town of Crewe.  We will learn about the impact the Romans had on our country and how we can still see this now. The children will study local maps and create maps of our local area. We will spend time learning about Crewe and its heritage and how our town has changes over time. 
During Science the children will learn about light and how we can make things easier to see at night. We will investigate shadows and how we can change the shape of them.  During PE the children will be continuing their gymnastics and then moving outside to complete their athletics sessions. During French the children, be learning a French story called Les Quatre Amis and starting to write simple sentences. The children will continue their guitar tuition each week and continue to perform simple songs from memory.  During the children's RHE sessions they will explore their relationship with the wider world and how they can serve their community.
Celebrating Easter and Pentecost
This topic is designed to develop the children's knowledge and understanding of Easter and Pentecost through the Story of Emmaus and through Acts 2: 1-13 (Pentecost). The children will reflect on the celebration of new life and on the signs and symbols of the Easter season. They will reflect on the importance of belief through the story of 'Doubting Thomas'. They will learn about the symbols and fruits of the Holy Spirit and reflect on how the Holy Spirit helps them to live their lives.
Hansel and Gretel – Anthony Browne
For our first piece of writing this half term the children will be entering the world of Anthony Browne's version of Hansel and Gretel. With its stunning art work the children will be learning about atmospheric writing and how to create suspense. 
The Day the Crayons Quit – Persuasive Writing
When some crayons are not being used often enough they decide enough is enough and quit! The children will be learning how to write persuasively to convince them to return to their crayon box to be used once again.
Fractions
The children will continue their mathematical journey with fractions by learning about equivalent fractions, comparing fractions and then adding and subtracting fractions.  At the end of the unit the children solve problems, applying all the new skills they've learned.
Time
Following on from fractions the children will learn about months, years, and how many hours in a day.  They will estimate time, tell time to 5 minutes and the nearest minute.  The children will compare different durations and measure time in seconds.
Times Table Rock Stars
The children will use the website to help them to develop their fluency when learning times tables. This term they will be introduced to the 3 and 4 times tables as well as consolidating their learning around the 2, 5 and 10 times tables.
Spellings and Homework
Weekly spellings are given out on Mondays, and the spellings will need to be learnt at home, ready for a test on Friday. Weekly English homework will be given out in new textbooks every Friday. It will be due in school on the following Wednesday. 
Reading 
Each time the children read in school you will be updated via the class dojo. You are also able to send a message to let us know how your child is reading at home.
Other information
PE kits will be brought into school on Mondays and returned home for cleaning at half term. Please include both indoor and outdoor PE kit. Trainers are requested as opposed to black pumps if possible. Jogging bottoms are also recommended when the weather becomes colder. Our PE day is on a Friday; however, we will also do the golden mile weather-permitting on a different day.
If you have any queries don't hesitate to contact me via the class Dojo. 
Thank you for your continued support,
For details of the curriculum, home learning, PE days and other dates please take a good look at our half termly Curriculum Maps. 
'IN THE JOY OF THE GOSPEL, WE WILL WORK TOGETHER TO BE KIND, FAIR, HONEST AND BECOME THE PEOPLE JESUS CALLS US TO BE'