SMART Club
The fun place to be before and after school!!
Do you need childcare before school, after school or in the school holidays?
Our out of school club is run by St Mary's staff. It is open before and after school every day in term time, and all day in the school holidays, including INSET days! (Excluding Christmas and bank holidays). The name was chosen by a pupil from our school and stands for St Mary's Are Really Together.
We are based in the Family Learning Centre at St Mary's – on the Key Stage 2 playground, and have use of school facilities such as the playing field, Shady Hollow (the wooded area on the field), playgrounds, adventure trail, computer suite, sports hall and kitchen areas (for cookery).
The SMART Club information leaflet and registration form can be downloaded at the end of this page, along with some examples of holiday club activity fliers. For more information please contact a member of the SMART Club team on 07983 304425 or via the main school office on 01270 260620.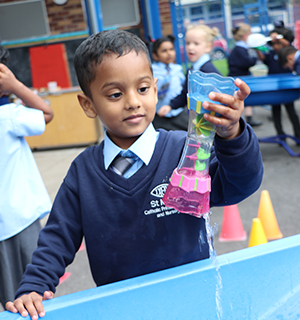 Morning and Afternoon School
Please note: SMART Club offers a flexible drop-off and pick-up arrangement within the times stated above, except on trip or visit days
Daily activities Include:
Indoor & outdoor play
Team games
Art & craft activities
Computer/Wii/Playstation
Role play
Quizzes
Colouring activities
And much more!
Holiday Club
Opening Times & Prices
Holiday Club
Opening Times & Prices
| | | |
| --- | --- | --- |
| Full Day | 7:30am – 5:45pm | £21 |
| Half Day – Morning | 7.30am-12:30pm | £11 |
| Half Day – Afternoon | 1pm – 6:00pm | £11 |
Have a look at the SMART Club Facebook Page (@smartclubstmarys) for more news, updates, photos and more!
Our club is committed to providing children with a stimulating and safe environment. We will do all we can to make our premises welcoming and friendly to children, their parents/carers and any other visitors.
All Playworkers at SMART are fully DBS checked, and have a wide range of qualifications and life experiences ensuring that your childs time at SMART club is an enjoyable experience.